Welcome to serenity.
Here's a quick preview of our rates. Scroll down for more details.
| | | |
| --- | --- | --- |
| Daily | Weekly | Monthly* |
| $50.00 | $270.00 | $757.00* |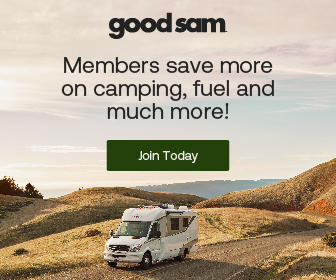 Save 10% on Campground Fees when you Join the Good Sam RV Club Today
Pioneer Creek RV Resort is carefully-designed with a quiet, peaceful, and relaxing atmosphere in mind that allows our guests to enjoy the natural surroundings. If you want to truly find some peace and quiet, take a walk to the creek at the back of the resort and breathe in the tranquility. Not only perfect for quaint strolls on warm sunny days, our resort also offers numerous activities and amenities for active retirement. We offer a top notch woodworking shop, as well as wood carving, stained glass, and metal working shops, with lots of great equipment and helpful, skilled guests. Pioneer Creek RV Resort allows for the best in safe, relaxed RV living.
Location

Site Map

Request Reservation


Rates
Experience the Finest Resort Living
April 1, 2021 - March 31, 2022
Daily (includes electricity)

$50.00

Weekly (includes electricity)

$270.00

1 Month*

$757.00

2 Months*

$1,514.00

3 Months*

$2,222.00

4 Months*

$2,897.00

5 Months*

$3,552.00

6 + 6 Months*

$3,200.00

Yearly - 12 Months* ($366.00/mo)

consecutive after six months
*additional charges for electricity apply. Balance due on arrival. Rent begins on reservation date.
---
Rates are based on 2 person occupancy.
Written leases are required on all 6 + 6 and yearly lot rents. A 5% discount is given on all leases paid in full prior to April 1st of each year. We also have 3-equal-installment payment plan available (first payment due April 1st, second payment due October 1st, third payment due December 1st).
All sites are complete with water, sewer and electric service. Electric meters are read monthly. Bills are payable on or before the 1st of the month at the front office (late charges will apply).

One RV and vehicle per site. Storage trailers and boats must go into storage. Additional fee for storage.

​Propane available at a prevailing rate.
Extra person fee: per night $5.00; per month $100.00 (if approved by resort manager).
Rates are based through March 31, 2021. For additional pricing information, please call us.

Prices subject to Florida sales tax and tourist tax if applicable.
Rentals available. Call the number above for more info.
​
Reservations Policy:
A one-month deposit is required to guarantee a reservation. Specific sites are not guaranteed. Longer stays will receive site priority. For more details, call the number above.
REFUND POLICY:
The majority of Wilder RV Resorts reservations are made in advance, making cancellations difficult to replace. Because of this, we ask that all refund requests are made within 24 hours of reservation being made with the resort manager. If a cancellation is made after the 24-hour period, they must be reviewed by the corporate office on a case by case basis. Refunds are subject to a 15% cancellation fee. No refunds after arrival. No refunds after December 1st, 2021.​​